Colorbond steel is undoubtedly one of THE materials of choice for Sydney home owners when it comes to fencing. The reputation of Colorbond steel has grown over the years due to its ability to withstand the Australian climate as well as keep it's original appearance.
The versatility of the material is offered through it's range of colours. It's quality can also allow the material to be used in roo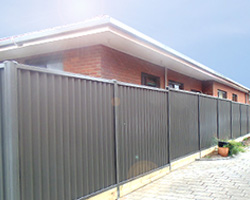 fing, constructing sheds and of course, fencing.
Colorbond fencing is particularly popular in Sydney due to the  extensive variety of housing styles throughout the city and surrounding suburbs. The material can be used on it's own when constructing a fence or be used as a feature amongst other materials such as being framed by timber slats or used to add some texture to a rendered fence.
However, no matter how reliable the material is, when it comes to fencing, the materials must be installed correctly . Our team at Amazing Fencing are experienced in both fencing installation and fencing design or solutions.
By using a reputable and experienced fencing contractor who is familiar to the area such as Amazing Fencing, will give you the reassurance that you are receiving the best in fencing when it comes to materials, installation and customer service.